Having been terrified of People's All-out Struggle on November 14th, the Park Geun-hye administration has begun to oppress harshly Korean Confederation of Trade Unions (KCTU) intending to destroy it by the security police.
We, Japanese working class, will strengthen our determination to denounce Park Geun-hye administration's crackdown on KCTU and the security police's oppression, and to struggle together with Korean working class fighting for the general strike in December.
On November 21st, Police raided and searched 8 unions' offices, from KCTU Headquarters through Korean Metal Workers' Union (KMWU), Korean Public Service and Transport Workers' Union (KPTU) and Korean Federation of Construction Industry Trade Unions (KFCITU), and so seized documents, personal computers and so on. On November 27th, it raided and searched KCTU Gyoenggi-do Regional Branch office.
Furthermore, Police has deployed a squad at the Jogye Temple in Seoul intending to arrest President Han San-gyun of KCTU who resides in this temple.
The sweeping raid, search and seizure at the offices of the KCTU, its affiliates and also regional branches are out of line with social justice, and has not ever been enforced except during the military administration era.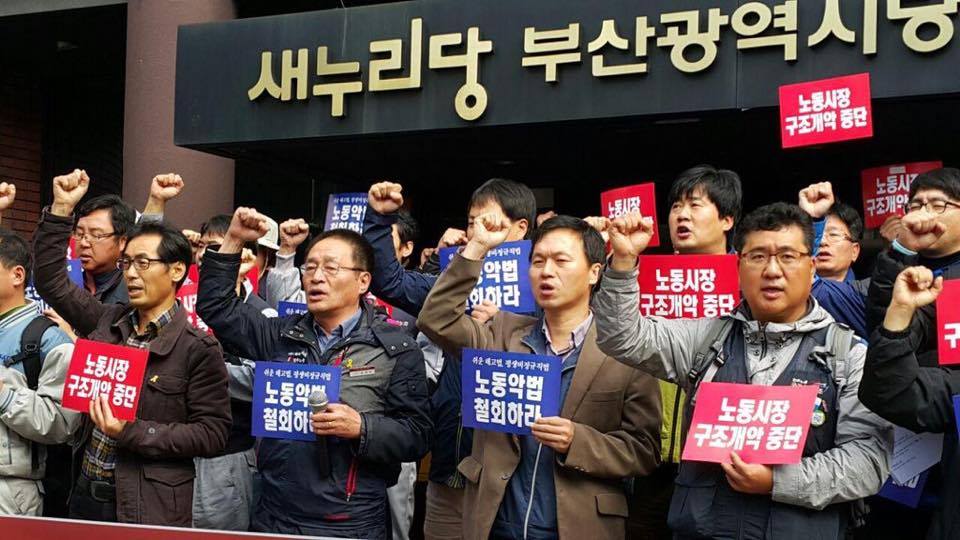 Park Geun-hye administration invaded and plundered KCTU Headquarters two times, just now and on December 27th in 2013.
They decided that workers' furious uprising can be crushed only by violence. Their own behavior certified that Park Geun-hye administration has turned into a military dictatorship again.
KCTU will smash the outrageous crackdown, and is going to achieve the second All-out People's Action Struggle on December 5th and the general strike.
President Han Sang-gyun appeals, "Let's fight the stronger struggle against the oppression! Let's wage the general strike to overthrow the unjust political power! The general strike against the revision of the labor law will open the way to create new world".
The struggle against the revision of the labor law is also Japanese workers' own struggle. We promise to fight together with KCTU with one heart and mind.
Yasuhiro TANAKA
President of National Railway Motive Power Union of Chiba (Doro-Chiba)