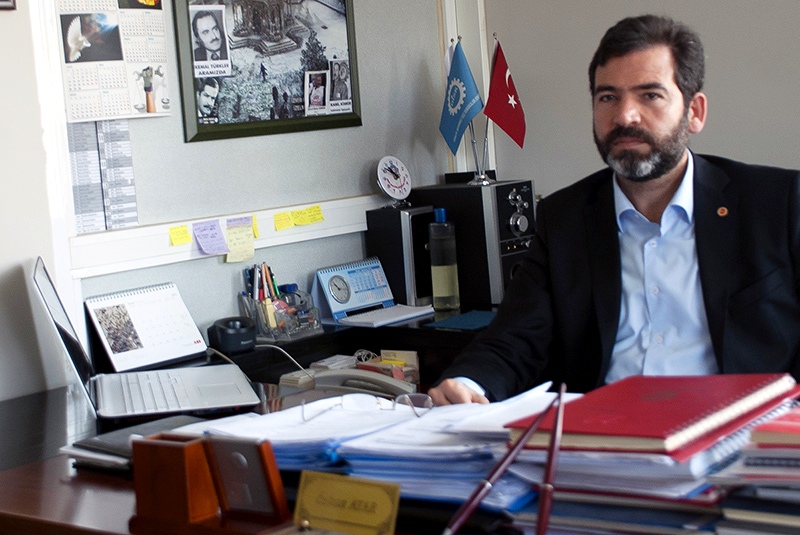 Messages of solidarity sent by Doro-Chiba, a trade-union of Japanese railway workers, and Workers Liberty Industrial Committee from Britain to the striking metal workers in Turkey to be conveyed by UİD-DER were handed by a delegation of UİD-DER to Birleşik Metal-İş (United Metal Workers' Union) in a visit to its national centre. In their messages Doro-Chiba and AWL Industrial Committee expressed their solidarity for the striking metal workers and their outrage for the government ban on the strike.
The messages were handed in writing to Özkan Atar, the organising secretary of Birleşik Metal-İş. During the visit the delegation headed by the UİD-DER chairman told that the ban on the metal strike is one of the authoritarian and repressive practices of the government and that it must be fought against. Activities, including marches, by UİD-DER in protest of the strike ban in a number of workers' districts and industrial areas were also told by the delegate. UİD-DER's urge and efforts for strengthening class solidarity against bans, repression, suppression of rights, and anti-democratic practices were shared. It was also said that UİD-DER tries hard to let various workers organisations around the world know about the offensives against the working class in Turkey and its struggles. The secretary was informed of the video prepared by UİD-DER both in Turkish and English about the metal workers' strike and of that the video was shared by a number of workers' organisations both in Turkey and abroad. Thanks to these efforts some fighting organisations in Britain and Japan are closely following the struggle of metal workers who are members of Birleşik Metal-İş.
Özkan Atar told that they were carrying on their struggle against the ban on the strike and that they would take an attitude based on the ruling to be made by the State Council. He said that they have already made important achievements against the impositions by MESS (Metal Industrialists' Union) and that they would never accept 3-year contracts. Atar reminded that some bosses have already resigned from MESS and made independent contracts with Birleşik Metal-İş and that this tendency feared MESS which eventually called the AKP government to its rescue. He added that they would continue the struggle whatever the decision of the State Council be. And he thanked UİD-DER delegation for UİD-DER's efforts to promote international solidarity and for the solidarity messages sent by class brothers and sisters in Japan and Britain.